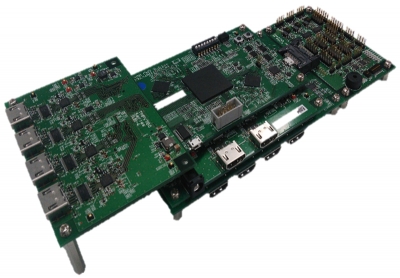 This product is an evaluation board of Toshiba image recognition processor "TMPV760 series". It consists of a CPU board, image output board, image input board, IO board, and sub board, and by combining it, it provides the optimum interface. TMPV7608 is mounted to the CPU board.
【BDS050: TMPV7608 EVA Board】
Features
・Best board configuration of TMPV760 series evaluation.
・Best solution for evaluation of Image processing solution that for CoHOG and Enhanced CoHOG.
・Shortens the overall development time by developing hardware and software concurrently.
・Free version of SDK (binary only) included.
・Optional Toshiba SDK available (including various driver C source codes).
・Attaches Schematics and parts list.
Applied Products
・In-vehicle camera
・Monitoring camera
・Take in multiple channel for image processing and so on.
Toshiba MeP Tool chain (Universal Probe Blue)